Case Study And Ethnographic Study Design
Main Difference – Case Study vs Ethnography
Case studies and ethnographies are two popular detailed, qualitative studies used in the field of social science. Although there are certain similarities between these two methods such as their holistic nature, and the extended time period, there are also some differences between the two. The main difference between case study and ethnography is their focus; ethnography aims to explore cultural phenomenon whereas case studies aim to describe the nature of phenomena through a detailed investigation of individual cases.
This article explains,
1. What is a Case Study
     – Definition, Features, Focus, Data Collection
2. What is Ethnography
     – Definition, Features, Focus, Data Collection
3. What is the difference between Case Study and Ethnography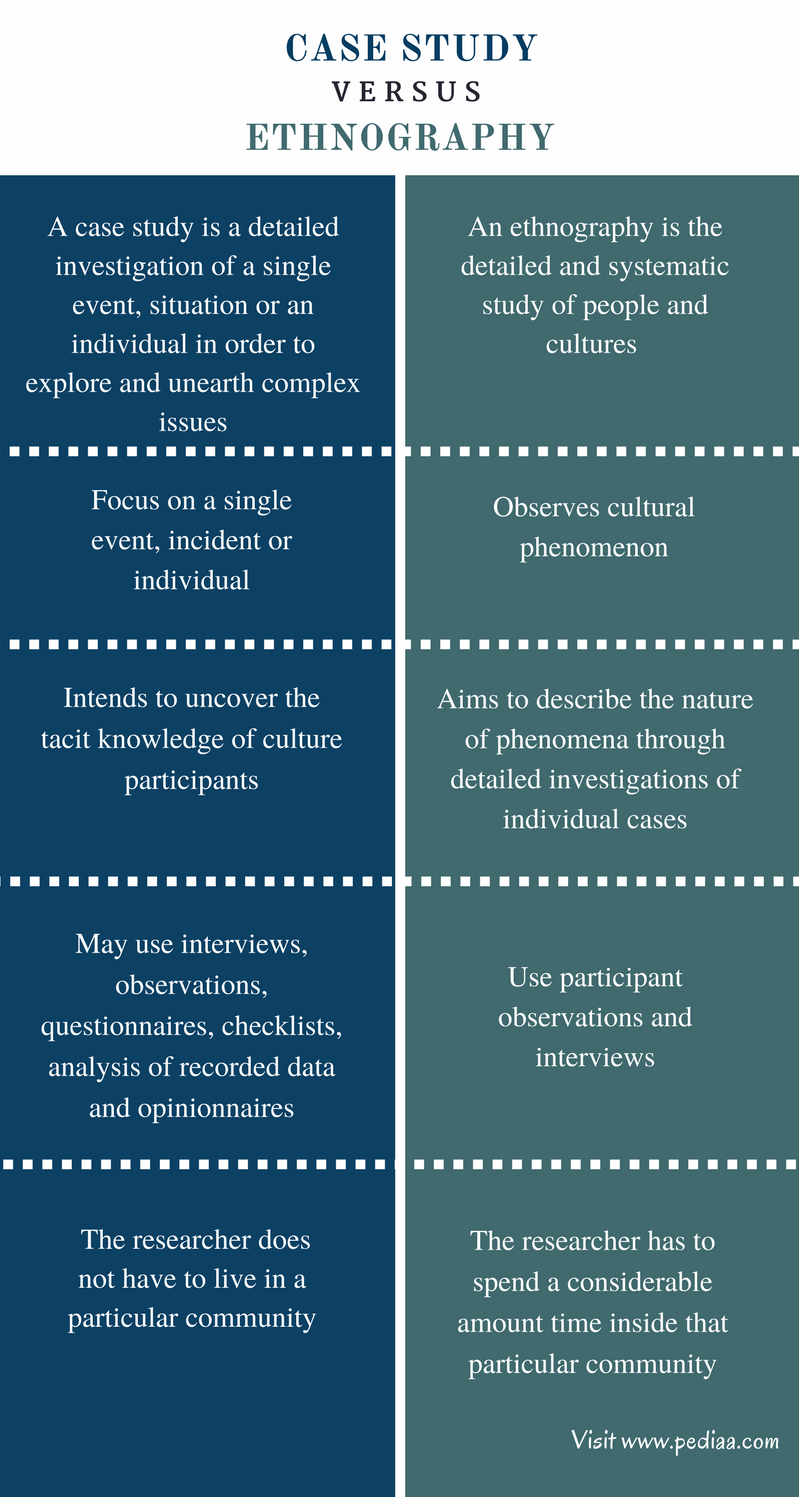 What is a Case Study
A case study is a detailed investigation of a single event, situation or an individual in order to explore and unearth complex issues. Yin (1984) defines case study as "an empirical inquiry that investigates a contemporary phenomenon within its real-life context; when the boundaries between phenomenon and context are not clearly evident; and in which multiple sources of evidence are used." Although case studies are always associated with qualitative research, they can also be quantitative in nature. They are often used to explore community-based issued such as poverty, illiteracy, unemployment, prostitution, and drug addiction.
A successful case study is context-sensitive, holistic, systematic, layered and comprehensive. The process of a case study involves,
Identifying and defining the research questions
Selecting the cases and deciding techniques for data collection and analysis
Collecting data in the field
Evaluating and analysing the data
Preparing the report
Data collection methods in a case study may involve interviews, observations, questionnaires, checklists, analysis of recorded data and opinionnaires. Case studies can also be divided into different categories. Exploratory, descriptive and explanatory case studies are three such categories.
Case studies are preferred by many researchers in the field of social sciences since they offer detailed and in-depth information about a particular phenomenon. However, it is difficult to use the data obtained from a case study to form generalisation since it only focuses on a single event or phenomenon.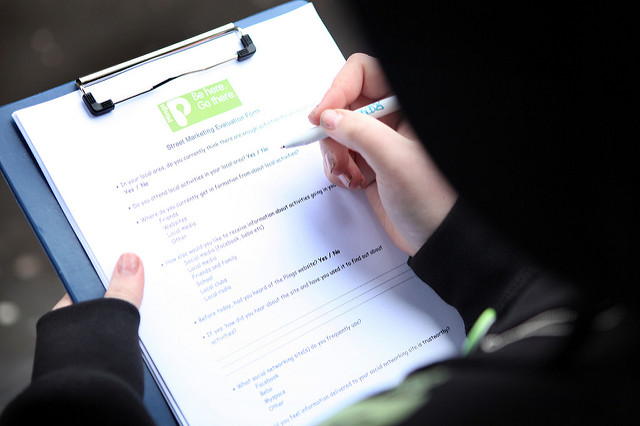 Figure 1: Questionnaires are one method of data collection in a case study.
What is an Ethnography
Ethnography is a detailed and in-depth study of everyday life and practice. In other words, it is the systematic study of people and cultures. A researcher who is engaged in ethnography is known as an ethnographer. Ethnographers explore and study culture from an insider's point of view (emic perspective).
Ethnography traditionally involved focusing on a bounded and a definable race, ethnicity or group of people; for example, study of a particular African tribe. However, modern ethnography also focus on different aspects of the contemporary social life.
Ethnographic research mainly involves field observations, i.e., observations of behaviour in a natural setting. The researchers have to spend a considerable amount of time inside a community in order to make such observations. Information about particular socio-cultural phenomena in a community is typically obtained from the members of that particular community. Participant observation and interviews are two of the main data collection methods in this type of studies. Ethnographic studies take a longer period of time than other types of research since it takes long-term involvement and observation to understand the attitudes, beliefs, and behaviours of a community.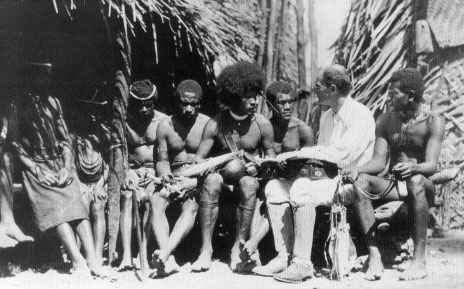 Figure 2: Observation and participant interviews are main data collection methods in ethnography.
Difference Between Case Study and Ethnography
Definition 
Case Study: A case study is a detailed investigation of a single event, situation or an individual in order to explore and unearth complex issues.
Ethnography: An ethnography is the detailed and systematic study of people and cultures.
Focus
Case Study:Case studies focus on a single event, incident or individual.
Ethnography:Ethnography observes cultural phenomenon.
Intent
Case study:Case study intends to uncover the tacit knowledge of culture participants.
Ethnography: Ethnography aims to describe the nature of phenomena through detailed investigations of individual cases.
Data Collection Methods
Case Study: Case studies may use interviews, observations, questionnaires, checklists, analysis of recorded data and opinionnaires.
Ethnography: Ethnographic studies use participant observations and interviews.
Special Requirements
Case Study:The researcher does not have to live in a particular community.
Ethnography:The researcher has to spend a considerable amount time inside that particular community.
Conclusion 
Case study and ethnography may have some similarities; however, there is a considerable difference between case study and ethnography as explained above. The main difference between case study and ethnography lies in their intent and focus; case studies intend to uncover the tacit knowledge of culture participants whereas ethnographic studies intend to describe the nature of phenomena through detailed investigations of individual cases. There are also differences between them in terms of data collection and analyis. 
Reference:
Cohen, Arie. "Ethnography and case study: a comparative analysis." Academic Exchange Quarterly 7.3 (2003): 283-288.
Yin, Robert. "Case study research. Beverly Hills." (1984).
Image Courtesy:
"plings_005″ by Plings(CC BY 2.0) via Flickr
"Bronisław Malinowski among Trobriand tribe 3″ By Unknown (maybe Stanisław Ignacy Witkiewicz, 1885-1939) (Public Domain) via Commons Wikimedia
Study aims and objectives
This exploratory study investigates how knowledge sharing, as a latent factor, contributes to discharge planning and the transition of care, with the broad aim of identifying interventions and practices that support knowledge sharing and thus mediate system complexity and promote patient safety. As outlined in Chapter 1, the study focuses on the discharge of stroke and hip fracture patients as two comparator groups, but with the intention of developing broader lessons for improving care transitions. In line with this, the research objectives include:
to determine the stakeholders and agencies involved in discharge, including their distinct roles, responsibilities and relationships, as elaborated in terms of (a) their specific knowledge and practice domains; (b) their prevailing cultural norms and assumptions; and (c) organisational context

to determine the patterns, media and content of knowledge sharing between stakeholders with a particular focus on interventions to facilitate communication, including (a) MDTs; (b) guidelines and toolkits; (c) co-ordinators; and (d) ICTs

to determine stakeholders' relative perceptions of the threats to 'safe' discharge, with a particular focus on known risks and sources of readmission, including (a) falls and (b) medicines management, as well as other perceived risks

to determine how knowledge sharing represents a latent threat to (sources of) patient safety, including known factors such as 'delayed', 'missing', 'fragmented' or 'repetitious' communications and the persistence of communication 'boundaries'

to explain the patterns of knowledge sharing as threats to patient safety based upon the heuristic categories of knowledge, cultural and organisational factors

to identify lessons and interventions that support knowledge sharing and, in turn, integrated, efficient and safe hospital discharge and reduced readmission.
Methodological considerations
The proposed study methodology combined two complementary approaches for identifying, analysing and understanding patterns of knowledge sharing within complex social systems. This included social network analysis (SNA) and ethnography. SNA is an approach for identifying, mapping and measuring social systems and relational processes through analysing the relationships (ties) between people, groups and organisations (nodes).129–132 Despite a resurgence of interest in more qualitative approaches to understanding social networks,132,133 quantitative approaches for measuring and statistically analysing social relationships remain dominant in organisational research.131 Although the study obtained a range of qualitative data to describe and understand the patterns of knowledge sharing involved in hospital discharge, these data have not been analysed in the form of SNA, i.e. looking for structural relationships, actor centrality or network density.131 Through consultation with methodological advisors, and reflecting the comments of the study reviewers, it was determined that, although a range of qualitative data on the patterns of knowledge sharing were collected, these were not of a consistent format and character to enable more standardised SNA. As such, the report draws upon these qualitative data to develop a 'thick' description and interpretative understanding of the patterns of knowledge sharing involved in discharge planning and care transitions.132,133
In broad terms, ethnography is concerned with developing a rich description and interpretative understanding of how different peoples, communities or cultures 'experience, interpret and structure their lives'.134 Ethnography is particularly suited to organisational research,135 providing insight into how knowledge is constructed through intersubjective and culturally informed sense-making; how beliefs and assumptions are shared among different groups or communities; the importance of shared language and stories in expressing and reinforcing shared values; how ceremonies and rituals guide interaction and convey shared meaning; how social activities occur and unfold in context; and how wider sociocultural and institutional pressures shape everyday life.136–138 The ethnographic approach is associated with specific methods for understanding social and cultural processes, especially observations that allow for an emic or insider's perspective.136
With reference to this study, ethnography affords exploratory understanding of hospital discharge as a situated social activity involving the sharing of knowledge between multiple actors, each with distinct cultures and modes of social organisation. Ethnography facilitates the identification and analysis of the distinct knowledge and practice domains that characterise different groups involved in hospital discharge; how their distinct cultural norms, values and identities have an impact on their discharge practices; and how wider social and organisational customs frame social practices. As well as providing a detailed and holistic understanding of the social and cultural world of health and social care professionals,138 ethnographic research is well suited to investigating issues of patient safety,139,140 including how latent factors located within this wider sociocultural fabric interact with and make clinical practice potentially (un)safe.106
Sampling and selection
The study was designed as two system (and two patient group) case studies of discharge planning and care transition. The case study approach enables in-depth and contextual insight within cases, but also comparison and theoretical generalisation between cases.141 In line with the case study approach, the selection of care systems and patient groups purposively aimed to investigate known differences between these cases.
System and organisational selection
The primary unit of analysis was the local care 'system', within which patient discharge is planned and organised. This 'system' is conceptualised as comprising an acute NHS hospital around which other primary, community, rehabilitation and social care services are arranged. Discharge is seen as the planning and transition of care from the acute NHS hospital to community-based health and social care. In line with this view, the study was undertaken in two geographically distinct English care systems, broadly defined by county boundary. Each has a principal administrative city and conurbation (Farnchester and Glipton), with smaller towns, and villages located in rural areas. For the purpose of maintaining anonymity of participating organisations and individuals, the city, country and organisational names have been changed. Sampling of these geographical areas took into account their relative size, ethnic diversity and urban/rural balance (Table 4). Sampling also considered variations in the configuration of the care systems in these counties. Each was served by a single NHS acute trust; one was a large teaching and research-active health-care provider, operating over three large organisational units (Glipton), and the other was a smaller district general hospital with limited teaching and research activities (Farnchester). Sampling also considered the geographic spread of community-based care services, the proportion of single-handed GPs and structure of social care services. These differences are summarised in Table 4 [data were obtained through National Health Profiles143 and the Office for National Statistics (ONS)142 from 2010 to 2012].
TABLE 4
Comparative data on study sites
Farnchester NHS Trust comprises two medium-sized district general (acute) hospitals, one located in the administrative city of the county and the other in another market town (Farnchester and Fallow), and a third, smaller community hospital located in a remote small town (Ribble). The hospitals were merged in 2000 under the management of a single NHS trust, with headquarters based at Farnchester Hospital. According to available records, the Trust employs over 7500 staff and treats more than 180,000 emergency patients, 500,000 outpatients and 100,000 inpatients every year. Farnchester Hospital is the main provider of specialist services across the majority of the county, including stroke and hip fracture patients. At the time of data collection, two primary care trusts (PCTs) (east and west of the county) commissioned specialist and acute services. Following the Health and Social Care Act 2012, services are commissioned by four Clinical Commissioning Groups (CCGs) (north, south, east and west), which operated in shadow form during the last year of the study. The Trust works closely with Farnchester Community Healthcare NHS Trust, which was formerly managed by one of the PCTs but became a separate provider of health care. It also works closely with a single unitary local authority for the county, whose social service department assesses and provides social and personal care, or contracts care provisions from private or third sector agencies.
Glipton NHS Trust comprises three distinct hospitals (City, General and District), located in different areas of the same city and also brought under the management of one NHS trust in the early 2000s. The Trust employs over 10,000 staff and provides services to over 1 million residents in the local population. It is an established site for health education, with strong links to the local universities, and the site of an extensive portfolio of clinical research. At the start of the research, the Trust worked closely with two NHS PCTs (city and county), who commissioned the majority of its acute and elective services. Following the Health and Social Care Act 2012, three new CCGs operated in 'shadow' form until assuming responsibility for commissioning in April 2013. Two community NHS trusts (city and county) provide continuing health care, rehabilitation and home-based care, including the management of two community hospitals. The social services departments of the city and county local authorities were involved in assessing, providing or commissioning social care through a mixed market of public, private and third sector organisations. This includes a specialist reablement service for immediate postdischarge care. The regional NHS ambulance trust supports the transition of patients both to and from Glipton and Farnchester NHS Trusts, and a private transportation firm is also contracted to provide patient transports from hospital.
Sampling started with the two acute NHS hospitals, and included other primary, community and social care agencies. It was anticipated that the variety and number of agencies involved in discharge planning and care might be considerable, and variable according to patient need. Reviewing the literature, a range of common agencies was identified. Although many of these groups could be identified in advance of the study, such as social services, it was difficult to determine the exact profile for each county. As such, a snowball sampling strategy was used to identify agencies and organisations involved in hospital discharge. This group included:
GPs and primary care administrative and commissioning units (PCTs, now CCGs)

community health-care services (some formerly managed by PCTs)

specialist community in-reach/outreach services (possibly managed by PCTs)

community pharmacies

local authority, social services

social care providers working in private, public or third sector (including reablement)

intermediate care and rehabilitation services

residential and nursing homes

ambulance and transportation services

voluntary sector support groups.
Through purposively selecting differences in health system configuration and patient group (stroke and hip fracture patients), it was possible to develop comparison along four dimensions: between different hospital types and system properties (e.g. single site vs. multisite), where some degree of control is obtained through looking at the same patient group, and between different patient groups (e.g. stroke and hip fracture patients) within the same hospital (Figure 1).
FIGURE 1
Selection and basis of analytical comparison.
Patient selection
The research used 'patient tracking' to develop a patient-centred understanding of hospital discharge (see Patient tracking). This involves focused observations and interviews with patients and families as they experienced discharge planning and care transitions. To facilitate representation across patient groups, a sampling strategy was devised in consultation with clinical specialists on the project team, patient and public involvement (PPI) representatives and clinical leaders at each site. This recognised key variables and comorbidities known to influence discharge activities, such as cognitive impairment or family situation. Sampling included participants with and without cognitive capacity to reflect the general adult hospital population.
Essential criteria
Treated in acute hospital for hip fracture (non-elective) or stroke.

Expected day of discharge within 7 days of initial information giving by researcher.

Lives within the study site boundary.

Aged over 18 years.

Able to hear and speak to respond to interview questions or has family member able to assist with communication.
Additional selection criteria for each study site
Ages: 1 × over 85, 3 × over 65 and 1 × under 65 years.

Cognition: at least two patients with recognised confusion or cognitive difficulties (as determined by care team).

Place of discharge: 2 × living in residential or nursing home, 1 × home alone, 1 × sheltered housing, 1 × with family.

Fast-track can be included but must fit essential criteria and researcher to have made direct contact with family prior to discharge.
Based on these criteria, the study aimed to recruit eight patients within each service area (a total of 32 across all four sites). Selection involved identification of potential participants in consultation with senior members of the care team around the time of admission, before inviting patients and families to take part in the research. This technique proved to be highly successful within three sites. In the Farnchester hip fracture service, difficulties were experienced in sustaining the required number of participants because of frequent transfers between wards, staff shortages and 'out of area' patients. In total, across all sites a total of 32 patients were recruited (see Table 7). Reasons for withdrawal during the data collection periods included death, deterioration of condition, loss of discharge destination information, discharge out of the study area, readmission, transfer to a new location and patient or family not wishing to continue.
TABLE 7
Patient tracking participants
Research methods and data collection
Data collection involved two sustained periods of data collection within each local care system (Glipton and Farnchester), starting in the respective stroke and hip fracture services of each hospital before moving to the wider health and social care system. Data collection typically involved 2–3 months of research in and around each stroke and hip fracture service (i.e. 5–6 months of research in each hospital) and a further 2–3 months of research in the local community health and social care sector, including patient tracking (i.e. approximately 8 months of research within each health-care system). Patient tracking commenced around the same time that community health and social care agencies were involved in the research.
Qualitative interviews
Semistructured qualitative interviews were used to understand how hospital discharge is planned, organised and experienced from the perspectives of different health and social care professionals, patients and family members. Interviews were especially important for identifying the roles and responsibilities of actors within the discharge process, the patterns of knowledge sharing between actors and how actors' knowledge domains, cultures and organisational context shaped their interactions. The interviews were designed to be conducted in a semistructured, conversational style, giving participants the opportunity to explore emergent issues. All semistructured interviews were guided by a topic guide developed to reflect the study objectives. Draft questions were developed by the project team and representatives from the PPI group and piloted at one research site with three clinicians. These topics (see also Appendix 1) included:
career biographies and backgrounds

details of roles and responsibilities, with a specific focus on discharge activities

an account of the discharge process, including the broad process, planning issues, and working with patients and families

the role of communication and knowledge sharing in discharge processes

identification of individuals or groups contacted during discharge activities

exploratory accounts of knowledge-sharing relationships with identified individuals

perceptions and experiences of risk and safety

recommendations and improvements.
A modified guide was developed for patients, family members and carers, based on the advice and feedback from the PPI representatives. This included:
ways in which discharge plans were discussed and planned with patient and carer

how the discharge was expected and experienced

whether or not the plan met the needs of the patient

ways in which discharge can be improved.
An important feature of the interview questions was that they were structured to generate participant narratives, or stories of discharge processes. These stories were not read necessarily as 'truths' but rather as analytical windows into how participants make sense of and give meaning to discharge, thereby highlighting differences in knowledge and culture. These narratives were particular insightful when exploring how participants make sense of the discharge process, and especially the sources of safety and risk. A further feature of the interviews was that they were used to inform snowball sampling, that is, to help identify other potential, unanticipated actors or groups involved in the discharge process and the patterns of knowledge sharing with these actors. For example, all participants were asked to describe the different people, groups or organisations they communicate and share knowledge with in the processes of discharge planning and care transition.
Most participants were invited in writing to participate in the study. This invitation included a participant information sheet and an opportunity to contact the project team for further information. Other participants were recruited during ethnographic observations; for example, where an individual was observed as having an important role they would be asked to participate in the study and provided with a participant information sheet. All participants were asked to confirm that they had understood the participant information sheet and give written consent. The majority of interviews were digitally recorded with the consent of participants and all were transcribed verbatim for the purpose of subsequent data analysis. Table 5 details the interview participants according to location and number, and Table 6 further details the interview participants by their occupational background.
TABLE 5
Interview participants detailed by organisational location in the health-care system
TABLE 6
Interview participants by occupational and organisational designation
Alongside semistructured interviews, the research involved more informal ethnographic-type interviews with participants, normally as part of observations. These ranged from small interactions or 'chats' to clarify an observed occurrence or activity (i.e. asking a participant what they are doing or to explain a technical procedure) to more open, unstructured and lengthy exchanges (i.e. to explain a series of events or a particular situation in greater detail). Many of these interviews occurred when shadowing participants or in other informal settings, such as rest areas or cafés. As such, it was not always feasible to digitally record these interactions and most were recorded as handwritten notes in field journals.
Observations
Ethnographic observations of discharge activities provided the main source of data. Observations focused on how discharge was planned, organised and supported as a series of complex interactions between various health and social care agencies. These involved non-participatory or passive observations144 of everyday practices; that is, the research team did not have a formal, legitimate membership role in discharge activities, but they did build rapport and shared understanding with participants through interacting and engaging in other forms of participatory engagement, such as conversations and non-clinical (technical) interactions. The observations combined different activities to build rapport and understanding:
Guided tours and structured familiarisation Undertaken at the start of the research over a period of 3–5 days, including 'walking tours' with service leaders, introductory meetings with stakeholder groups, informal presentations at weekly meetings and collection of relevant documents, policies and procedures.

Work process observations More in-depth workplace observations undertaken over a period of 1–6 weeks (depending on the location). These included mapping the temporary and spatial organisation of daily work (schedule of ward rounds, meetings, handovers, discharge times); identifying key events and activities (MDTs, drug rounds); identifying key individuals or groups (discharge co-ordinators, clinical leads); and drawing together these data into a complex descriptive account of the social setting. For the main research settings, i.e. hospital wards, observations were undertaken on a daily basis (3–4 days per week, including evenings and weekends) for 4–6 weeks; in other settings, such as community hospitals or care homes, they were undertaken over 1–2 weeks, and in more dispersed or peripheral settings, such as social service departments, they were undertaken over a shorter time period, i.e. day visits. Some settings were not amenable to observation given the diversity and demands of their workload, such as GP surgeries and community pharmacies, where interviews provided the primary source of data.

In-depth observations of situational activities, tasks and settings Prolonged follow-up observations of key knowledge-sharing activities, tasks and settings. These observations were usually conducted concurrently with other research activities, including shadowing or interviews. Each setting was observed at least three times and some settings, such as weekly MDTs, were observed up to 10 times. This included observations of:

daily/weekly planning and decision-making meetings (MDTs)

trauma and assessment ward rounds

patient and family consultation meetings

community hospital reception

nurses' station ambulance handover

social services assessment

use of ICT and manual records relating to discharge planning

pharmacy ward checking of medications to take out (TTO) on discharge

fast-track planning and handovers

referrals to multiple agencies by phone.

Shadowing of individuals To deepen understanding of the roles and contributions of certain individuals or groups, shadowing observations were also undertaken with key individuals (leaders or discharge co-ordinators) or representatives from professional groups (nurses or therapists). These ranged from several hours (ward clerks) to several days (discharge co-ordinators) of observing individuals as they went about their day-to-day work. These individuals included:

discharge co-ordinators

ward nurses

junior doctors

consultants

hospital social workers

ward clerks and administrators

OTs

PTs.
Using these techniques, it is estimated that the research involved over 180 hours of direct observations and many more opportunistic observations, in a variety of health and social care settings. All observations were recorded, first in handwritten field journals including rich description and separate interpretations. These were later typed up electronically as corresponding text and interpretation, as well as a summary overview of key points.
Patient tracking
A key feature of the research design was the use of 'patient tracking' to understand the first-hand experiences of patients and their families/carers as they were discharged from hospital to a community setting. This involves a series of short semistructured interviews (up to five), with patients both before and after discharge, focused observations of their discharge planning and arrangements, and the collection of patient diaries (where possible) (see Appendix 2 for extracts of patient diaries). These activities led to the collection of rich and diverse data that enabled the research team to construct a picture of how patients and family members experience hospital discharge.
In the first instance, patients/families were approached in hospital after admission, usually when an initial date of discharge had been set (within 72–48 hours of planned discharge). Each patient was asked to participate in a series of short follow-up interviews, starting in hospital and then at 1, 2, 4 and 6 weeks post discharge. Although every effort was made to schedule interviews at these times, in some instances they needed to be moved ± 1 week owing to other appointments. Furthermore, not all patients were able to participate in the full series of interviews because of withdrawal (their health had worsened), readmission to hospital or death. Observations were also undertaken with patients, families and carers, on the wards and at home or in a care setting (nursing home) to understand how care was organised and provided. Patients were also invited to keep diaries about their discharge experiences (Table 7). In consultation with PPI representatives, a short, open-text diary was designed and printed and given to each participant with a short description explaining its voluntary use. The diary had a minimal structure and allowed for open text. Specifically, it stated that:
The purpose of this diary is to give the researchers a way of understanding how you are living your life since leaving hospital. The team are interested in what happens each day, especially when you have contact with health and social care workers. Please spend at least 10 minutes each day writing in your diary, but don't worry if you miss a day.
It also included a number of prompts asking participants to consider which health and social care providers they had interacted with, what they talked about, what kind of decisions were made and who else helped with their care. Participants were asked to keep the diaries for up to 30 days. Diaries were collected following the last interview or earlier if patients needed to withdraw from the study. In most instances, patients withdrew from the study because of continuing illness or moving out of area, in most cases around the time of the second interview.
Focus groups and validation workshops
The research involved a number of focus groups and workshops at each research site, together with a validation workshop at a third hospital site. The focus groups aimed to explore similarities and differences in staff members' understandings of the discharge process. Each involved structured activities with representatives from professional groups in ward or community settings. Each started by asking participants to individually visualise and draw what they saw as the key stages or activities involved in hospital discharge. These were used to prompt reflection and to gather insight into how discharge was understood by different groups (see Appendix 6). Each group was then tasked with collectively drawing the discharge process on large sheets of A2 paper, using pens and Post-it notes. These usually took the form of flow diagrams, but varied as they were revised and amended. Throughout this process, a member of the research team asked probing questions to clarify the choices made, differences between participants and to surface shared or divergent reasoning. Finally, each focus group involved an open discussion about the sources of risk and breakdowns within the discharge process. Although focus groups were organised with all four sites, the Farnchester hip fracture service was unable to participate in the activity owing to staff shortages and workload pressures. As such, only three of these focus groups were undertaken. Table 8 details the numbers and staff representatives involved in the focus groups.
TABLE 8
Focus group participants: staff groups represented
At each research site a feedback (validation) workshop was organised after data collection to outline preliminary findings, raise any unresolved questions and seek validation on emerging interpretations. These were organised in consultation with service leaders to include staff representatives and clinical leads, usually involving between five and 10 people. They each involved a short visual presentation and provided a written report about the study aims and design, data collection and key findings, including a list of anonymised recommendations from participants for service improvement. These workshops were particularly useful for validating and confirming the early analysis.
An extended 'validation workshop' was organised with an additional acute care provider of hip fracture services, not involved in data collection. This aimed to further validate and confirm the research findings through exploring relevance and similarity with professionals and managers from another locality, thereby helping to develop more generalisable lessons. This workshop was organised after all data collection and early analysis was complete. It was attended by the hip services clinical leader and representatives from different professional groups, including nursing, occupational therapy, physiotherapy, and administrative and support staff. The workshop was structured with an overview of the research design and data, including the main points of convergence and divergence across the research sites, and analysis of the common barriers to and facilitators of hospital discharge. Participants were asked to discuss the relevance of the findings to their own service, the growing complexity of patient comorbidities, resource demands in the acute and community settings and the challenges of meeting increased patient expectations. This workshop helped to identify additional lines of analysis to test emerging conclusions.
Overall, the validation workshops identified and help clarify the following issues:
the range and number of actors involved

discharge pathways and structure of interactions

communication and knowledge-sharing problems

the main perceived threats to patient safety

contextual factors, i.e. staffing, resource constraints, targets

wider contextual changes, i.e. CCG priorities

recommendations for future interventions.
Documents, policies and routine data
Through the study, various documents were collected from each research site. These included formal policies and pathways for discharge planning, patient leaflets and guides, and pictures of posters, fact sheets and other information. These were used to contextualise observational and interview data and provide a point of comparison between expected or planned discharge and observed discharge. The research also aimed to gather routinely collected performance data related to hospital discharge at each site, including data about staffing, bed usage, safety incidents, number of patients, average length of stay and number of readmissions. In three participating sites much of this information was made available by service leaders, and with additional third-party data, specifically health profiles and ONS data. As with the focus groups, however, one site was reported as too busy to help provide these data and, as such, only third-party data were collected. These statistical data were used to help contextualise the organisation and performance of each site, and were not used for formal statistical analysis. The range of data collected included:
British Heart Foundation Stroke Statistics 2009

British Heart Foundation Statistics Database 2009–12

Health Profiles 2012 (Public Health Observatory)

commissioned discharge support documentation

annual reviews per authority

National Hip Fracture Database (NHFD) 201242

national stroke audit 2011.32
Data management and analysis
All data were managed in accordance with NHS and university research governance frameworks. All interview transcripts were anonymised with pseudonyms, and all identifying information such as contact details was securely filed. Handwritten ethnographic notes did not include identifiable names or locations and were archived within 48 hours in locked cabinets. Electronic data were stored within encrypted and secure external drives and backup copies kept within a locked location within the university. The following sections detail the data analysis techniques.
Interpretative qualitative data analysis145–147 was undertaken to develop descriptive and contextualised understanding of the knowledge-sharing relationships and their contribution to discharge planning and care transition across each of the research sites. This involved an iterative process of close reading of data, coding, constant comparison, elaboration of emerging themes and re-engaging with wider literature. In the first instance, three members of the research team (JW, FM, SB) independently reviewed a sample of five transcripts and three observations records to devise an agreed coding strategy that reflected the over-riding research objectives. At this point, one researcher (FM) took responsibility for ongoing data coding and categorisation using the computer package NVivo 10 (QSR International, Warrington, UK), into which all transcribed interviews, focus groups and observational records were entered. This involved systematic coding of all data records. To assure the reliability of the coding process, codes and categories were reviewed on a weekly basis by the wider team to ensure the accuracy of interpretation and internal consistency of codes. As the coding process progressed, family codes and categories of data were identified, as well as thematic relationships. Through this iterative process a number of common themes were developed in relation to:
knowledge-sharing roles

knowledge-sharing relationships

knowledge-sharing situations

ethos and cultures

materials and resources

service organisation and management

perceptions of risk

sources of risk.
The aim of the analysis was to understand the relationship between knowledge sharing and discharge safety. In the first stage, it aimed to develop an in-depth and comparative analysis of the knowledge-sharing relationships by 'zooming in' and comparing between key activities, situations or interactions, drawing on observations records, interview narratives, diaries and informal accounts. This centred on a comparison between Glipton and Farnchester sites, and between stroke and hip fracture services. In the second stage, the analysis aimed to identify and elaborate research participants' perceptions of the threats to patient safety associated with hospital discharge, drawing on in-depth narratives to identify actual safety events and underlying risk factors. These perceived risks were reanalysed with reference to observational data to understand how the patterns of knowledge sharing might explain these perceived risks. Further analysis aimed to look across the discharge process, knowledge-sharing relationships and perceptions of discharge safety to identify thematic categories that would help explain similarities and differences between research sites and how discharge safety might be enhanced through activities or interventions that reduce discharge complexity and increase knowledge sharing. This led to the identification of four broad areas where strategies and interactions might be developed to promote knowledge sharing, reduce system complexity and enhance patient safety (Figure 2).
FIGURE 2
Thematic categorisations towards learning points.
Public and patient involvement
Given the complex nature of hospital discharge and the pivotal role of the patients and their relatives at the centre of the discharge process, the study gave particular attention to understanding the views and experiences of patients and families, and of patient advocacy and support groups, throughout study design, conduct and analysis. At the study design stage, PPI representatives working in association with the National Institute for Health Research Collaborations for Leadership in Applied Health Research and Care (CLAHRC) Nottinghamshire, Derbyshire and Lincolnshire were consulted to understand the issues pertinent to patients and to develop the patient tracking exercise. This helped clarify, for example, the rich source of data likely to be collected during patient tracking and the importance of focusing on quality, not quantity of participants.
During the study period, an initial PPI group was formed to advise the study. Despite recruiting eight individuals to participate in this group, including representatives from the regional Stroke Association, Age UK and specialist PPI representatives working through Nottingham University Hospitals, it proved difficult to convene this meeting with full attendance. For example, at the first meeting only the chairperson and the study team attended. Therefore, the decision was made to form two smaller PPI groups within each of the communities being researched, based upon the contacts and groups involved in the study. As such, meetings were organised at the midpoint and end point of the study with local support groups, faith-based groups and local representatives from the Stroke Association and Age UK operating within each of the study areas. These smaller PPI groups were attended by between three and six people and were convened to fit with existing meetings and information sessions provided in each area. In each meeting the study aims and objectives, methods and plan of work were presented, and participants were invited to question and offer recommendations about the study focus, design and emerging findings. These meetings were particularly important in helping to determine the sampling criteria and methods for patient tracking, especially the time points at which to conduct interviews, the best ways of approaching patients and families, the design of the diaries and ways of keeping in touch with participants. Through the use of the patient tracking exercise, the study worked extremely closely with patients and their relatives, with the experienced researcher (FM) developing strong relationships with most participants, including high levels of trust, rapport and shared understanding. The nature of these relationships meant that participants not only provided data towards the study, but also an important source of timely feedback and guidance on the design and conduct of the study.
Ethical approval and research governance
The study received a favourable ethical opinion in May 2011 from the National Research Ethics Service Committee, East Midlands: Nottingham 1. The study also received research and development approval from each participating NHS trust, including letters of access for all researchers.
Presentation of findings
The main findings of the study are presented in the following two chapters. Chapter 4 develops a comparative analysis of the ways in which knowledge sharing contributes to discharge planning and care transition. In line with the research objectives 1 and 2, it identifies the range of actors involved in hospital discharge, including their distinct roles, responsibilities and relationships, and the patterns of knowledge sharing between them, including attention to the different forms of knowledge, media and materials. Chapter 5 describes and elaborates the perceived sources of safety and risk within discharge planning and care transition, and builds upon the previous chapter to consider how similarities and differences in the patterns of knowledge sharing can explain these threats to (and sources of) patient safety. In line with the research objectives 3 and 4, it draws primarily on the views and experiences of participants to describe the perceived threats to safety in relation to hospital discharge, and in analysing these accounts the chapter draws upon Chapter 4 to interpret and explain the relationship between the perceived risk and knowledge sharing. Chapter 6 draws together the preceding chapters to identify and elaborate the activities and interventions that might promote knowledge sharing, mitigate system complexity and promote safer discharge. In line with research objectives 5 and 6, it identifies tentative lessons for enhancing patient safety through understanding and addressing the barriers to knowledge sharing.
It is worth acknowledging that the presentation of the findings was particularly challenging given the enormous complexity involved in discharge planning and care transition. Broader still, the proposed research underestimated the enormous complexity involved in hospital discharge. In short, hospital discharge remains a highly complex social and technical process, with a myriad of contributing activities and factors, many of which exist in parallel, duplicate one another or run counter to one another, in the true sense of a complex system. As such, the report has struggled, at times, to convey this complexity and still maintain a coherent line of analysis and interpretation. The following chapters highlight many similar or repeated issues, and as such may appear at times repetitive, but this illustrates the sheer difficulty of trying to describe and analyse a complex system, as well as emphasising those particular issues that, time and again, appeared to influence knowledge sharing and discharge safety.